Herbert J Lamb
There are 22 military graves listed by the Commonwealth War Grave Commission within Bicester Cemetery, Oxfordshire. This is the story of just one of those men.
Second Lieutenant HJ Lamb or 'J Herbert Lamb' as his name appears on so many of his official documents was sadly killed on 9th October 1918, aged only 24 and just 33 days prior to the armistice. His body is buried in Bicester Cemetery (click for the exact location).
Courtesy: Mr Alan Lamb (nephew)
1901 Census Canadian Census
J Herbert was born in a beautiful fishing village called Percé in Quebec, Canada to Charles and Edith Lamb on the 28th April 1894. Later the family was listed as living in Gaspé and Chandler, also in Quebec. He was the third of their five children.

Prior to joining the Canadian Expeditionary Force (CEF) army aged 21, J Herbert had studied to be a Civil Engineer but was working as a Hotel Manager. When enlisting he was listed as unmarried and according to his medical, he had brown eyes, dark hair and a light complexion, stood 5'7" (170cm) tall and weighed 127lbs (56kg).
2Lt. Lamb had originally joined the Royal Canadian Army Medical Corps. (CAMC) on 11th September 1915 as a Private assigned to No 6 General Hospital (Laval University).

By April 1916 his unit had reached Liverpool and he was promoted to Sergeant. He reached France in July 1916 and had been appointed clerk receiving extra pay. Unfortunately by Christmas 1916, he had lost the clerk position as a punishment for 'being in Paris without a pass and having lied to the Military Police'. It was Paris, it was wartime, he was young and single, I think we can forgive him.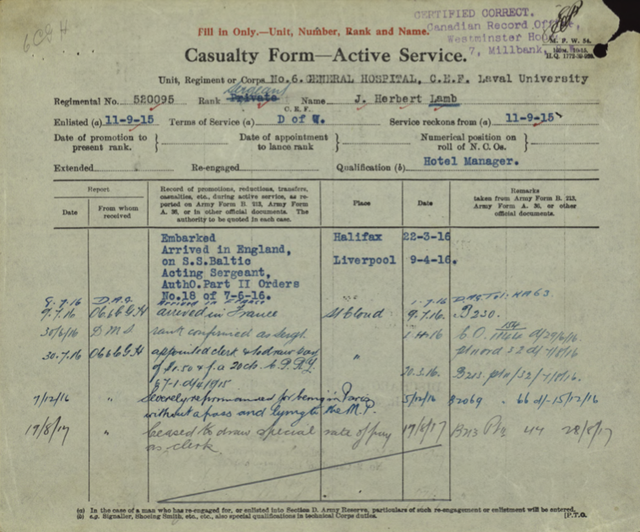 During Herbert's time with the No 6 General Hospital, it was located in Saint-Cloud (Paris), Joinville-le-Pont (Paris) and Troyes.

To give you an idea of the scale of World War 1, the Canadian's alone had 16 general hospital units, each hosting one to two thousand beds. Herbert's time in France spanned some of the bloodiest battles of the war; The Somme, Vimy Ridge and Passchendale. A little incident in Paris without a pass seems rather trivial in comparison to what they must have witnessed.
A ward of No 6. Canadian General Hospital Source: alamy.com
A brief history of No 6 Canadian General Hospital (Laval University). Source: Library & Archives Canada.
A 'general hospital' would be positioned a long way behind the trenches so to be out of the reach of the enemy's artillery and aircraft. Wounded troops would be carried or walk to front line aid posts, then onwards to regimental aid posts. Only then would they be taken by ambulance to Casualty Clearing Stations (CCS) where surgeons would be able to perform immediate but limited procedures. Finally, hospital trains (see picture below) would move the injured to a general hospital for additional treatment and recuperation. Servicemen requiring long-term treatment would be returned to hospitals in United Kingdom.

For more information please visit these resources: The evacuation chain for wounded and sick soldiers (The Long, Long Trail) and The Work of the RAMC (Western Front Association, YouTube).
The interior of a hospital train carriage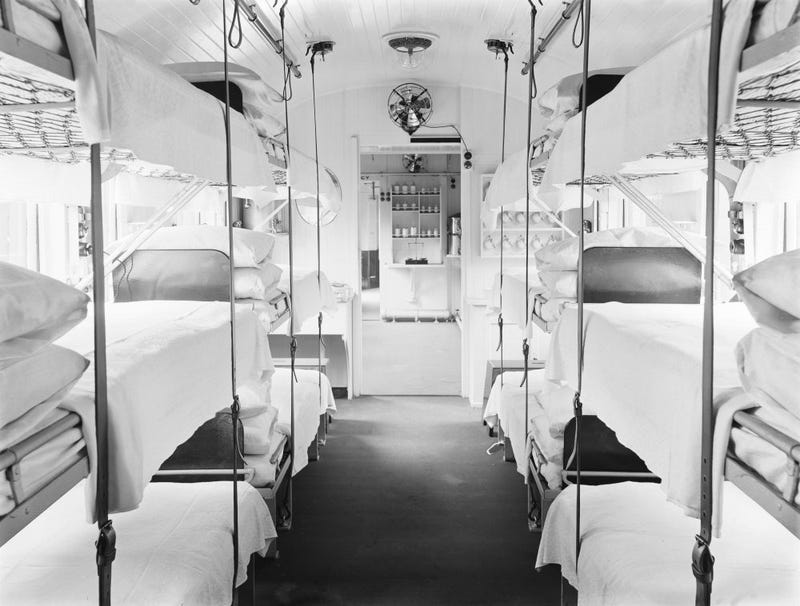 In September 1917, Herbert returned to England and the 'stationary hospital' at Shorncliffe, Folkestone as a 'candidate for commission'.

Herbert was discharged from the CEF on the 10th May 1918 with a 'VERY GOOD MILITARY CHARACTER' commendation, when he transferred to the fledgeling Royal Air Force, founded just one month prior. As military flying was still a new concept the Royal Canadian Air Force did not exist until 1924. All aviators of the British Empire regardless of their nationality served in the Royal Air Force.
Discharge from the Canadian Army Medical Corps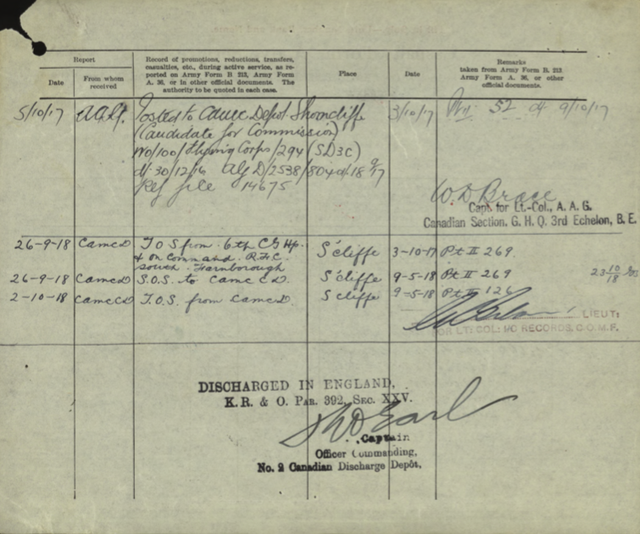 By September and after completing initial flight training he was destined to transfer to the Airco DH9 bomber however instead Herbert was sent to 44 Training Depot Station (TDS) which was in the process of moving from Port Meadow Aerodrome, Oxford, to the new airfield at Bicester* to learn to fly the Bristol F2B, a high-performance fighter aircraft (see picture below).

* This is somewhat unclear as 44 TDS did not technically arrive at Bicester until November 1918, but as Herbert is not commemorated as one of those killed at Port Meadow, I have assumed that he was based at Bicester because of other references to it being the aircraft's station and the fact that his body is buried in Bicester.

It was only a few days later on the 9th October 1918 when the inexperienced pilot's aircraft (D8012) had an engine failure and he was killed whilst attempting an emergency landing in poor visibility, possibly fog or low cloud. Some sources say he crashed near Islip and others close to Bicester. Both reports state the aircraft stalled during the forced landing attempt, something contemporary pilots at the Shuttleworth Collection have confirmed is, unfortunately, all to easy in machines of this era especially when combined with poor visibility.

Most training aircraft of this era were frontline aeroplanes that had been superseded and retired to 'gentler' lives in the hands of student pilots. As such their airframes may have sustained previous battle damaged and been repaired, so were not always robust. The Bristol F2B used the Rolls Royce Falcon engine and earlier models such as the version Herbert's machine was fitted with, were known to be problematic.


Bristol F2B aircraft being flown by The Shuttleworth Collection. Source: YouTube (Copyright © 2012 Malcolm Auld)
Youtube content can't be displayed with your current cookie settings. Select "Show Content", to view content and agree to the Youtube cookie settings. Get more info in the Youtube Privacy Policy. Opt-out here at any timecookie setting.
Show Content
Early aircraft were particularly deadly (to their pilots) as knowledge of materials and aerodynamics was in its infancy and much was left to 'trial and error'.

First World War pilot training was rudimentary and often delivered by instructors who had returned from active duty and were dealing with what then would have been described as 'shell shock' but we now know as post-traumatic stress disorder or PTSD. By 1918 when Herbert joined, training had improved substantially and deaths per hours of flying fell from 1 per 90 hours to 1 per 192 hours.

Many new aviators were killed during this stage of their careers. It is estimated that of all British airmen deaths, 30-50% occurred during training. You must remember that early aeroplanes did not have brakes and parachutes were not issued until after the war as senior officers believed they may encourage a 'pilot to abandon his aircraft in an emergency rather than continuing the fight'. Records show that the day prior to Herbert's accident, five airmen were killed and during that period, on most days one or two fatal flying accidents occurred at UK training bases.
Herbert's RAF Service Record
RAF Bicester in the 1920s
A memorial to the 17 RFC/RAF airmen killed during WW1 at Port Meadow aerodrome
Herbert is commemorated on the War Memorial of Chandler, Quebec as Sergeant
So over 100 years after his untimely death, Joseph Herbert Lamb's mortal remains lie over 2,700 miles from his birthplace, one of 22 military graves in Bicester Cemetery. His grave is located beside the Cemetery Road entrance and is marked by the familiar CWGC headstone.

Whilst Herbert maybe the first member of the Royal Air Force to be interred in our cemetery, he was not the first soldier of the Great War to be buried there. That was Private W. Walduck (47) of 2, St. John's Court, Bicester. He is also not the only Canadian as five more of his countrymen were buried there during the Second World War. He is also not the person buried furthest away from his home, that is Flt Sgt Pat Templeton (19) who although served with the Royal Canadian Air Force was actually a son of Wellington, Texas, USA.

So next time you walk past his grave, you will know his story and he is not forgotten along with Pte Walduck and Flt Sgt Templeton will be remembered for their sacrifice for our today's.
Herbert Joseph Lamb
28th April 1894 - 9th October 1918
Rest In Peace